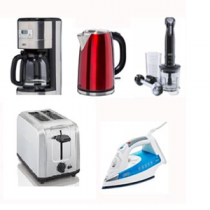 Small Appliances
Small kitchen appliances, domestic appliances and home electronics for sale in our Cardigan shop & online, all with free local delivery or fast UK mainland delivery.
Looking for Small Cooking Appliances
---
Kettles, Toasters, Irons, Food Prep
Looking for a specific small appliance that's not listed? Contact us for prices. We work with all the leading brands.